Coming Full Circle with Dr. Shawn Derritt, C'91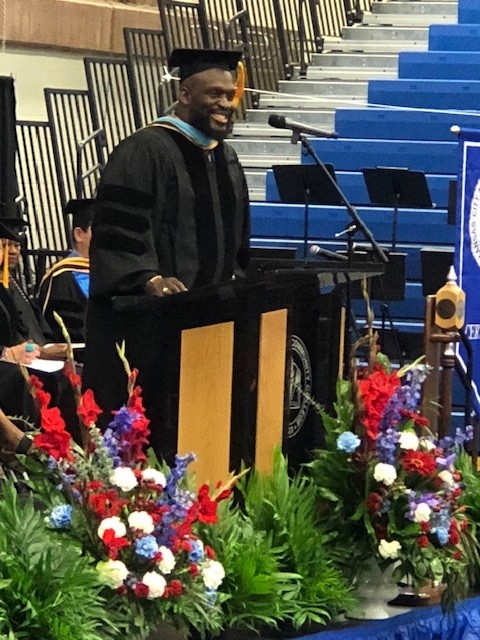 This month we met with Dr. Shawn Derritt, C'91 and current KCKCC Dean of Student Services! Dr. Derritt graduated from KCKCC in 1991 with an Associate of Arts in Psychology. He went on to obtain a Bachelor's degree in Psychology in 1995 and a Master's degree in Counseling Psychology in 2002 at the University of Kansas. Dr. Derritt worked in a variety of higher education roles prior to returning to KCKCC, including Admissions Counselor, Middle School Advisor, Coordinator and then Director of Upward Bound. In 2002, Dr. Derritt returned to KCKCC as a Counselor and was promoted to Director of Student Advising in 2012. He then became Assistant Dean of Student Services and finally Dean of Student Services. Dr. Derritt has served in that role since 2017. Dr. Derritt finished his Doctorate in Higher Education Administration from UMKC in 2018. Dr. Derritt has worked for the betterment of students for over 28 years!
What led you to attend KCKCC?
I knew I wanted to go to college. I didn't know how I was going to afford it. I didn't have parents and at that time the foster care system didn't have the great programs that they have now where they will cover tuition for students that have aged out of the foster care system. I knew that I didn't have a whole lot of options. I was a pretty strong academic student and I was awarded a 2 year scholarship to go to KCKCC. It was the Presidential Scholarship. I graduated from F.L. Schlagle High School. I was living here in the community, so this was the next best step for me.
Did you know what you wanted to major in when starting at KCKCC?
Like so many college students, I initially wanted to be a psychologist. But then I was discouraged because of the amount of time it would take. I was told by family members, 'Well this will take you forever, you don't want to be in school forever." Which I still ended up being in school forever (he laughs). So I decided I was going to do engineering. I thought, like a lot of students, they make a lot of money, I want to make a lot of money, so I started that journey. I met with my advisors every semester and when I got to the math part, where I had to take a lot of math, I realized I did not like math at all. I decided to go back to my original major which was psychology.
What was your next move after completing classes at KCKCC?
I transferred to the University of Kansas and got a Bachelor of General Studies with an emphasis in Psychology. After that I went into Grad school at KU. While I was pursuing my Masters, I did a stint in the KU Admissions department for about one year. I realized that was not what I wanted to do, so I got into TRIO programming and worked for KU Educational Talent Search Program as their Middle School Advisor. And then from there I went to UMKC and directed their UpWard Bound Program. I did that for almost four years and then a position opened here (at KCKCC) for an Advisor. I knew it would be perfect! When I came here, I was the youngest professional on campus at the time.
How has KCKCC Impacted your career and/or life?
I've been in higher education for about 28 years having spent 20 of those years at KCKCC, and it's been amazing to come back to the college that gave me my start in education. I went from being an Advisor to being the Director of Advising to being an Assistant Dean to now the Dean. One of the things that has kept me here is the community and family of the College as a whole. When I got here, I was amazed at how many of the professionals and instructors that I had while I was a student were still here. Coming here as a student, the faculty and staff were so encouraging and many of them really helped me believe that I belonged and that I could do well in education and continue on. And actually, when I graduated, I was one of those students that would come back and visit my professors often. We still have faculty and staff members that make such an imprint on students. It was an honor to come back here and be one of those individuals for students.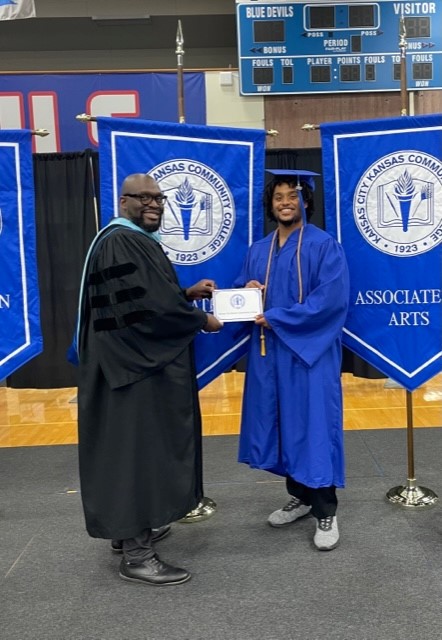 Did you receive any scholarships while at KCKCC? If so, please tell us which ones and how they impacted your life.
I received the presidential scholarship, and I also received a scholarship from an outside entity. The outside entity was a historically black fraternity and I used it their scholarship at KCKCC. Like some students getting the presidential scholarship- it was hard to hold onto. Because that transition from high school to college and the rigors of college that is so different from high school, I struggled after my first year and I lost that scholarship. But our Financial Aid Office was amazing, and I went to them. They helped me apply for a Pell Grant and I was able to continue on with my education.
Did you have a favorite class or professor at KCKCC?
My favorite would be Jaleh Ardebili. She was a French Instructor. She was a great instructor because she challenged me. I was working full time and going to school, and there were times that I would come to class exhausted. I fell asleep in her class several times and she pulled me aside and she said, "you have to stay awake in my class." I gave her this sob story, and she said, "I understand, but you have to stay awake while you're in my class. That is the only way you are going to learn." She told me that if you fall asleep again, I'm going to drop you. I fell asleep again…. and she dropped me. At first it kind of hurt my feelings and I was like wow, can I get a break? But it also sparked a charge in me, where I felt challenged. I felt she was a fair instructor and I understood her rationale- you can't learn when you're asleep. And so I re-enrolled in her class and became her top student and actually became a tutor for French. She was amazing. I took French 1 and 2 and would have continued on if we offered French 3. She was the type of instructor that engaged the students and challenged the students. As a class, we created study groups and would meet at someone's house and she actually came and studied with us. She was an amazing person. The other instructor that really helped me regain my determination and drive to do psychology was Dr. John Ryan. He was an amazing instructor. I had a lot of instructors who genuinely cared and that I had a connection with. They challenged me to do more, to do better and I really appreciated that.
If you have ever donated to or volunteered for KCKCC, why do feel it is important to give back?
I have! I am a current Family Fund member (the family fund is an internal giving program for employees to give back to students in form of scholarships). I think it's important to give back because you have to think about the students now. They represent the student you were. I think about when I was a student here back in the late eighties and the things and obstacles that I dealt with and many students that are walking our halls are dealing with some of the same things, if not worse. This is such a great place, so why can't I help and give back. It may not be as much as someone else gives, but it's something and that's all that matters.
What advice would you give to current KCKCC students?
Dream big and don't compromise on your dreams. If you have a dream, no matter how many years of schooling or education that you have to go through, go for it. Don't let anyone discourage you from accomplishing your goals. I would also encourage our students to look around and realize that there's probably careers in front of them that they never thought of. I never thought of working at a college, and I don't know why. I mean, I knew that these people obviously had jobs and helped me, but I never thought about it being fulfilling. It just never crossed my radar. And even though I originally wanted to be a psychologist, I use those skills every day with the staff that I supervise, with the students that I interact with, even when they come in for disciplinary issues. I encourage students to dream big, look around them and realize that there's so many careers out there that are probably staring them in the face that will be just as fulfilling as the traditional or the more common careers.
Why do you feel schools like KCKCC (Community Colleges) are important?
Having been here almost 20 years, I'm a big fan of community colleges. My son went to school here as well. The neat thing about community colleges is they're amazing when you look at how they started and why they started. For many of our students, particularly our students that are first generation, low income and students of color, if there were not community colleges, many would not have the opportunity to go to college at all. Community colleges have faculty and staff that I would put up against any faculty or staff at a four year institution. Our faculty and staff are award winning. Some of them have published and done research, written books, and many of them have advanced degrees and doctorate degrees. They're of the same caliber that you would see at a four year college, but they're here. They're accessible and committed to helping our students. Community colleges are a gateway and most of us don't realize this, but a little bit over 40% of college graduates started at a community college or have taken courses at a community college, so they are essential to the successful education of our community.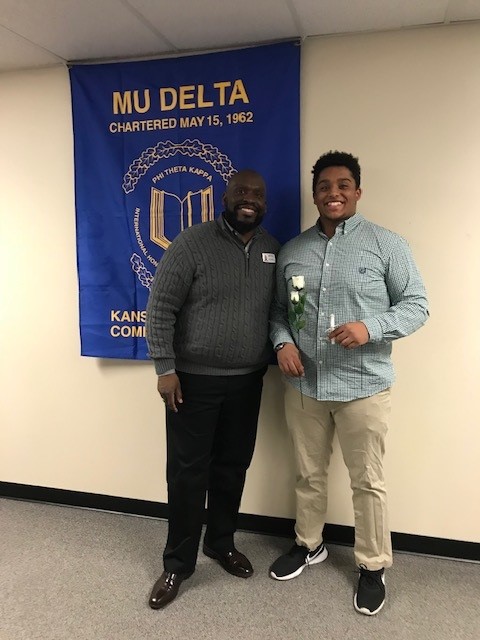 Did you have a favorite tradition or event you participated in at KCKCC?
There's so many activities, but one of the activities that I've always enjoyed participating in as an employee is the Wyandotte County Ethnic Festival. It's an amazing event for our community! I know they're working to try to bring that back now that COVID restrictions are lifting and hopefully it will continue to live on. And as the dean, I really enjoy our Back to School Bash. I get to engage with the students, so I'll get out there and dance with them. It's a great way to engage with the students and for them to get to see you as a human being. I love connecting with them. We have some amazing students from all over the world. Just sitting down and talking with them and learning a little bit about who they are is one of my favorite things. Also, graduation is always so exciting. You get to see those same students walk across the stage and you're waving at them, smiling at them. The connection that was made over the years is there and when they know you're proud of them-I just love it.
What do you hope for the future of KCKCC?
I'm so excited about where we're going. I have been here almost 20 years now, so I've seen it all. I've seen the absence of things, and one of the things that's kept me here so long is witnessing our progression and wanting to be a part of that. Our new student housing complex is amazing, and I'm so excited about that. The vision that we now have with our current administration and where we're going with the downtown location, other building projects and initiatives and program developments that are taking place are exciting. I feel like our students deserve it. Our community deserves to have an excellent state of the art community college in their community. Sometimes over the years we have compared ourselves with Johnson County Community College, but JCCC is serving a different population. They have different resources. And it doesn't mean that we can't dream and it doesn't mean that we can't have excellent and great things on our campus, too. It takes commitment. It takes sacrifice. It takes everyone willing to contribute and donate. It also takes a positive mindset- we're a great place, this is a great place to work, but this is also a great college for our community. All the updating and upgrading we've done with artwork, lighting, painting and carpet says that we're moving forward. It's been exciting to see it all happen. It makes me enjoy being here, and as a graduate it makes me very proud of our school.
Anything else you would like to share with our readers?
It's been said over the years that Kansas City Kansas Community College is a hidden jewel. I would say that we're no longer hidden. We definitely are a jewel, but I think we're even bigger than that. We're becoming and evolving as a college that I believe will be and has been in many ways nationally and internationally recognized. I think we are now becoming and evolving into a stand out institution with the quality of our faculty and staff, award winning programs, award winning infrastructure in terms of what our buildings look like, and the artwork that's coming. If you've not been on our campus in a while, you'll be amazed. Come to campus, take a tour, walk around, see the art. If you're thinking about where you want to go to school or where you want to take your kids or grandkids, come in and check out what KCKCC has to offer!