Congratulations Kansas City Chiefs – Super Bowl LIV Champs!!
Higher Learning Commission Accreditation:  While we celebrate this great win for our city, our own champs at @KansasCityKSCC have done outstanding work and submitted our HLC Assurance Argument on Friday! A tremendous thank you goes out to the entire HLC Steering Committee for providing great information and assistance to create this report. And, special thanks go to Dr. Krueger, Dr. Mihir, Kristan Ball and Jim Krajewski for compiling all the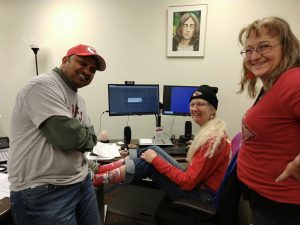 information and putting the finishing touches on this important accreditation document! Additional information will follow letting you know how to access the document to review before the visit.
As a quick reminder, our HLC site visit is March 2 and 3. This is a great opportunity to share with the site visit team all the great work everyone has been doing in support of student success, as well as items we are still working on to promote greater student and institutional success. Please mark these dates on your calendar and plan to take part in the site visit activities.
KCKCC College Master Plan:  Two weeks ago, we released a Request for Proposals (RFP) for engineering and development firms to assess all of our college facilities, speak with faculty and staff to determine long term facility needs to best serve our students and community in the next 10 – 20 years, and develop a facility plan to help guide KCKCC's future development projects.
On Friday, January 24, the College hosted a pre-submittal information and Q&A session to provide more information to interested firms to help them prepare their responses to the RFP.  We had terrific attendance at this event, with more than 20 firms attending, representing 16 different companies. This is everyone's time to dream and provide input into what KCKCC may look like in 2040! Please be sure to take part in these sessions when the selected firm comes to your area…
HB 2515 – Last week, House Bill 2515 was introduced to the state legislature. The Bill, Kansas Promise Scholarship Program, if passed, will provide last dollar support for students enrolling in high-demand career and technical education programs at the state's community colleges. Last dollar support pays all tuition and fees for students after federal financial aid and scholarships have been deducted from their charges. Passing of this bill would be a tremendous opportunity for our students and community colleges as it would allow students to complete their degrees without paying a dime for tuition and fees. Additional information is included in the hyperlink above.
KCKCC Suggestion Box: The Suggestion Box has definitely been busy. To date,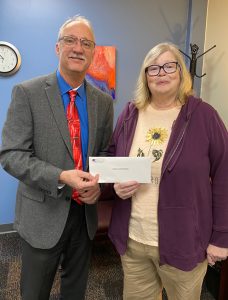 we have received 305 suggestions. With that, the President Extended Cabinet has been busy reviewing and selecting suggestions for implementation. With this many suggestions, some are duplicative to previous submitted items or projects that are already in process. When this occurs, we try to notify the individuals who submitted the suggestion, letting them know that something is already in the works. As you can imagine, with over 300 suggestions, we don't always have the time to follow up with everyone. The photo above is of a community member who had her suggestion selected. She was thrilled to be a part of a process that has the potential to help many others!
The list below shows suggestions selected during the fall 2019 semester. Each submitter of these suggestions receives a $100 gift certificate!
Add a pop-up window at the end of the KCKCC application asking if students would like to apply for a scholarship.
Provide students KCKCC lanyards for their college IDs to help prevent loss and spread school pride.
Offer a Spanish for educators course for faculty and staff.
Add faculty and staff office/room numbers to the online campus directory.
Promote Tech graduates and the companies who hire them similar to an athletic signing day.
Add the KCKCC vision and mission statements to the Board of Trustee agendas.
Install semi-translucent film on the windows to the HR office to provide more confidentiality for employees.
Add additional privacy in the men's restroom in the humanities building.
Update existing parking and building location signs in parking lots to add school colors and possible logo.
Look into the creation of a KCKCC running club.
In connection with the KCKCC healthy college initiative, and similar to other colleges, allow employees to use the wellness center without having to enroll for a class and submit a tuition waiver. Also, allow students to use the wellness center without having to register for a course unless they want the college credit.
Create additional engagement activities for employees such as employee mixers at off campus locations.
Use Icalendar invites for college/student events to generate better participation in college activities.
Explore implementation of a senior citizen tuition rate.
Provide additional safety and security information on the institutional section of class syllabi.
Install baby changing equipment in bathrooms across college facilities.
Install signage in TEC common area for Campus Police, Main Office, TEC Resource Center and Bookstore.
Create a list of employees who speak more than one language and are willing to serve as interpreters on an as-needed basis.
For KCKCC student tours, implement or update script for tour guides and have them wear KCKCC shirts for brand promotion. Also, do something similar for new employees.
Improve student Wi-Fi access in certain areas in the college.
Explore ways to provide open gym time for KCKCC students and employees who would like to shoot baskets or play basketball in the Fieldhouse.
Lastly, my last couple weeks have been very full and productive, further developing relationships and partner opportunities for our many projects at hand. Below are a few highlights:
Met with the representative for the Rita Blitt Foundation to further discuss KCKCC receiving a significant amount of her artwork. The estimated value of the donation could exceed $500,000!
Working with Tami and her team, finalized narrative and images of KCKCC that will be included in an upcoming coffee table book focused on Kansas City.
Attended the Wyandotte County Economic Development Council annual meeting and spoke with multiple contractors and developers who are interested in our projects.
Attended the Leavenworth County Development Council (LCDC) annual meeting and spoke with individuals regarding KCKCC's plans to build a new KCKCC–Leavenworth site in the coming years. Met with an individual regarding possible land to build a new site in Leavenworth.
Was appointed to the LCDC Board of Directors. Serving on this board as well as the KCKCC Chamber of Commerce Board and the Wyandotte County Economic Development Council Board, and being a member of the Greater Kansas City Chamber of Commerce helps keep me, and the college, stay current with regional economic development initiatives.
With Dr. Krueger, Tiffany Bohm, Todd Miles and Jeff Smith, met with UG Staff and KCK Fire Department to explore an opportunity to partner on a grant application to build a Regional EMS, Fire and Police Training Center. The total project would likely run approximately $50 million and the grant would pay for 80%. If proceeding, we would look to fund raise for our portion of the remaining 20%.
Met with the Mayor's Office and several developers, in separate meetings, to discuss the KCKCC Downtown project.
Attended MLK Luncheon, Black Achievers Annual Dinner, YMCA Challenger Your Fashion Event, KCK Security Bank Grand Reopening, and Wyandotte County Commissioner's meeting where fee increases for storm water usage was discussed.
A few upcoming key events:
This Thursday, I testify in front of the Senate Commerce Committee, discussing current and future KCKCC plans and how Kansas Community Colleges drive economic development and commerce in our state.
Additional meetings are scheduled with both KU and K-State to discuss partnership opportunities at the KCKCC Downtown location.
Next week, Trustee Ash, Trustee Sutton, KCKCC student- Nadia Vallecillo and I travel to Washington DC for the American Community College Trustee (ACCT) National Legislative Summit. During this trip we will be visiting with our national representatives and advocating for the continued support of community colleges and community college students across the country.
Have a great week!
Dr. M.