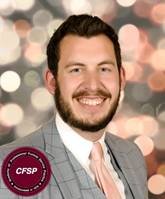 Stephen Derfelt, CFSP, a funeral director with Derfelt Funeral Homes of Southeast Kansas, has recently qualified for the designation of Certified Funeral Service Practitioner (CFSP), by the Academy of Professional Funeral Service Practice.
A number of professions grant special recognition to members upon completion of specified academic and professional programs, and "CFSP" is funeral service's national individual recognition. The Academy instituted the voluntary CFSP program in 1976 to distinguish those who offer more than what is expected of them.
Since its founding, The Academy has had these goals: 1) to recognize those practitioners who have voluntarily entered into a program of personal and professional growth, 2) to raise and improve the standards of funeral service and 3) to encourage practitioners to make continuing education a life-long process in their own self-interest, the interest of the families they serve, and the community in which they serve.
To initially receive this award, the practitioner must complete a 180 hour program of continuing education activities and events. In addition, the practitioner is required to accumulate 20 hours per year to recertify. Credits are awarded by the Academy for work leading to personal and/or professional growth in four areas: Academic Activities, Professional Activities, Career Review (for retroactive credit), and Community & Civic Activities.
The CFSP designation is the highest professional designation you can achieve in funeral service. When you see the CFSP credential next to a name, you know right away that you are working with a highly self-motivated person with a driven desire to learn, grow and achieve. At the time of this writing, Mr. Derfelt is one of only fourteen CFSP's in the State of Kansas. He is a licensed Kansas Funeral Director, Embalmer, Crematory Operator, Preneed Life Insurance Agent, and volunteer firefighter/EMT, In a lifelong pursuit of continuing education, Mr. Derfelt is currently working on his Certified Pre-Planning Consultant (CPC) Certification from the National Funeral Directors Association. This is a similar voluntary certification that focuses on assisting clients in pre-planning their final arrangements.
Mr. Derfelt graduated from KCKCC in December of 2012. One of his classmates, Jarred Harrington of Bonner Springs, KS, has also received his CFSP designation.
Written and provided by: "The Academy of Professional Funeral Service Practice" (or "APFSP")