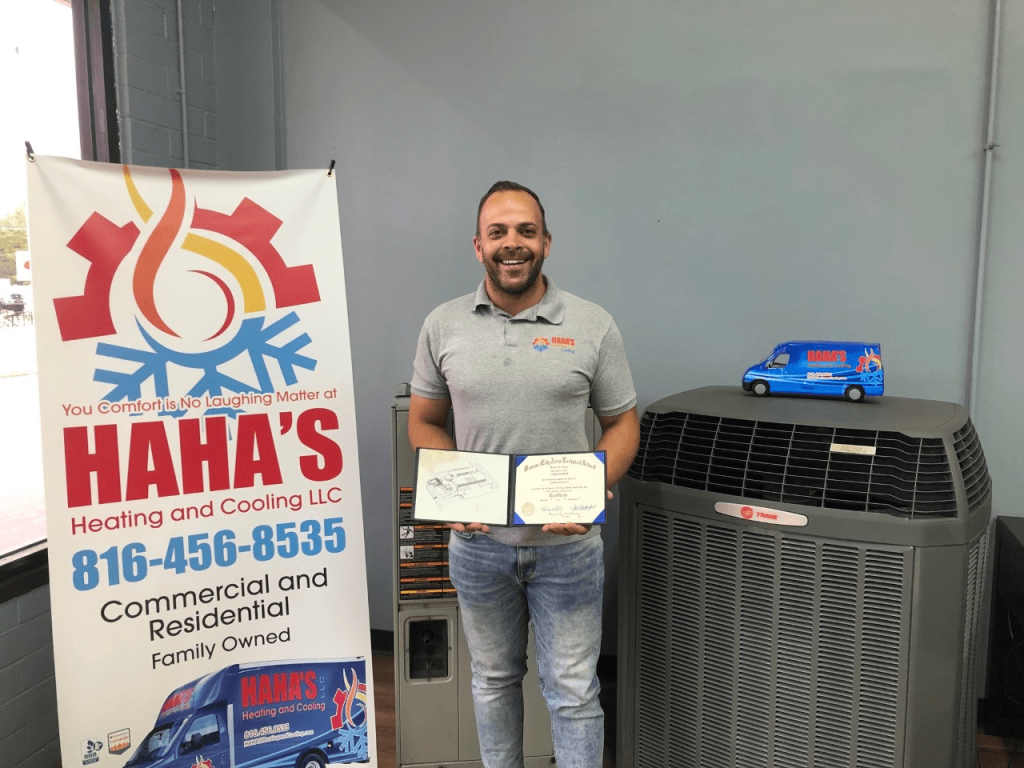 Faris Ha Ha is the proud owner of Ha Ha's Heating and Cooling, LLC. He also has other businesses in real estate and a restaurant called Ha Ha's Pizza. He graduated from the Kansas City Area Technical School, now known as the KCKCC Technical Education Center. He graduated with an HVAC certificate in 2007 and started his initial heating and cooling business in 2008.
What attracted you to attend KCKCC?
I had two instructors at KCKCC that really stood out to me, Charlie Brown and David Yantz, who both still teach there. I visit them when I go back to participate in the TEC Career Fairs. It was great having those two gentleman teach me everything about HVAC and how to do it in the right way. To me, it is about passion and loving what you do. The instructors spend so much time teaching students, my advice to current students is to not waste their (teachers) time if they are not sure it is the field for them. If it is the field for you, do your best to be good at it.

Another thing I loved about my program at KCKCC was that I could work while I was taking classes. I went to school from 6 am to 1 pm, then went to work with different HVAC companies after class. I was able to put what I had learned to the test. KCKCC taught everything basic that was needed- what to do and what not to do. It is so important to pay attention and know the rules of HVAC, such as sub cooling and super heat. Companies have to know that you know what you are doing. You need this knowledge to get hired, be a good tech or to be able to start your own company. So much of the basics of HVAC is important, such as wiring diagrams. This is something to pay attention to because you are dealing with high voltage and very dangerous stuff. Safety is number one! Not just for you, but for your customers and the company.
Did you know when you started at KCKCC that you wanted to go into HVAC work?
My dad would send me out to learn a different trade every summer. Electrician, carpenter, mechanic, all that kind of stuff. I didn't have a summer season like other kids who had so much free time. My dad told me my hands would be my gold and I had to learn a trade if I didn't want to continue doing higher education at a more traditional college or university. So, my other option was to learn how to use my hands. You have to know what you feel like doing and be good at it. I had the opportunity to try HVAC work before going to school for it. I did decide to go on and further my education after I earned my HVAC Certificate and I ended up earning a degree in mechanical engineering from UMKC. My associate's degree helped me learn more about the engineering side of the trade that I decided to go ahead and further my education. I learned how to design and create an entire system if I want to do it all myself.

I then went on to work for a company called Engineering Air. They came over to KCKCC and recruited me while I was still a student. I was able to learn a lot about the commercial side of heating and cooling while working there.
Did you look at other trade schools before coming to KCKCC?
Yes, I did. I was young and an immigrant from a different country and I also had a large family. We didn't have anything when we came to this country and I had to build myself from the ground up. Pricing at KCKCC was great compared to other schools I looked at attending, I liked the teachers a lot and how helpful they were.
How would you say KCKCC has impacted your career and your life?
They provided the basics for me, a foundation. It is up to you as a person to decide how far you want to take those basics to a larger scale. I appreciate what they taught me and that my instructors were able to get me to sit down and pay attention.
Did you know when you went to school that you wanted to start your own company?
It was not within my potential in the beginning. I wanted to support myself and my family. I was laid off and couldn't get hired anywhere, so I said I am going to start my own company. It was a great experience I had to go through. Now we are doing well and the business is successful.
Do you have a favorite memory or activity from your time at KCKCC?
We did a lot of activities. We would go to baseball games with the instructors and other students. We would go out in the field to fix a homeowners air conditioner with David Yantz. He would show us how to present ourselves in front of someone's house and how to talk to the customers. It is all about customer service. You have to be looking sharp, not just wake up from your bed and show up at someone's house. You have to look great, act professional, and know how to speak to the customer with manners. You also have to be honest. Honesty is so important. I learned all of this from my instructors at KCKCC TEC.
You have been involved with our KCKCC TEC Career Fairs, why do you feel it is important to be involved in these kinds of activities?
Me personally, I love to support the school where I graduated. I know what these instructors give to their students. I know what kind of knowledge and experience they provide and I like that I can support them. I also like to hire KCKCC TEC students. I have one working here right now.
Why do you think trade schools and technical colleges with these kinds of programs are important?
They are very important, because they build the basics inside you with regard to HVAC or any other trade field. It teaches you the importance of safety. For me, as a business owner with so many staff, I cannot be on top of every single technician telling them what to do or not to do. I know at KCKCC they learn the importance of these basics. This gives you more opportunity to grow within a heating and cooling company versus someone off the street with no knowledge.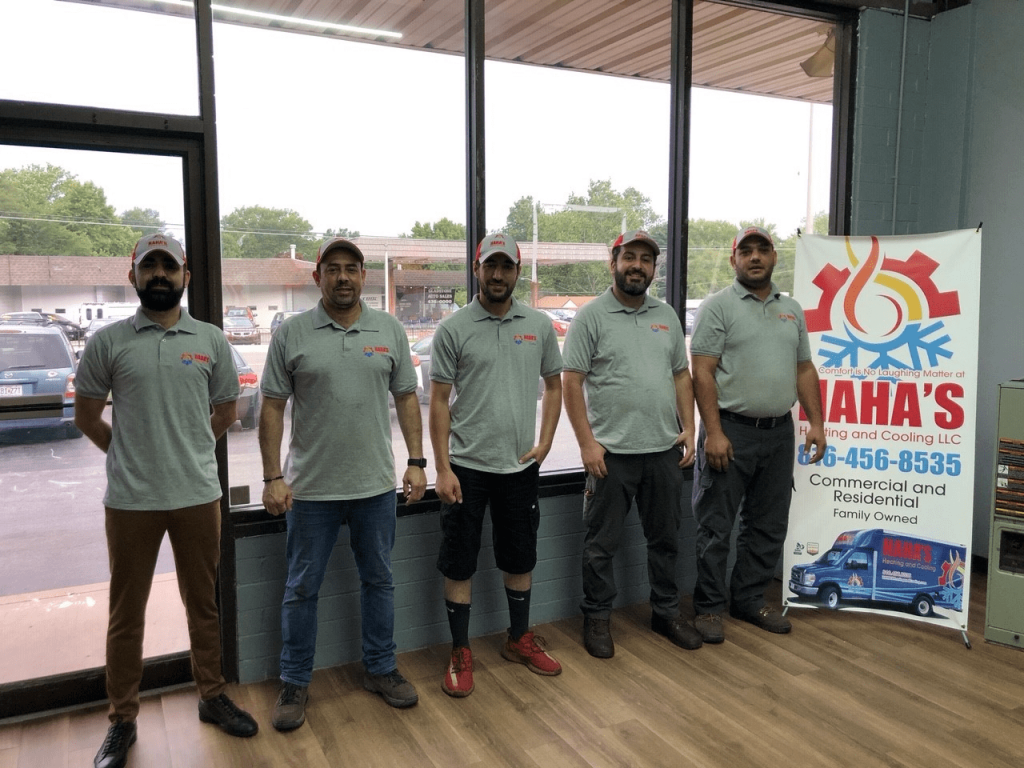 When did you start Ha Ha's Heating and Cooling, LLC?
My company started as F & H Heating and Cooling, based off of my initials. I also started to work with companies that did real estate, such as Fanny Mae's, doing heating and cooling. This was a way in for me and I grew by being honest and doing quality work. HVAC is like climbing on a ladder, you can't jump from the first step to the tenth step, you have to take baby steps; this is how I started. I started by only doing private companies at first, real estate, then insurance. I thought to myself, why can't I be like Bob Hamilton or Anthony's Heating and Cooling? I sat down with myself. I knew companies like Fanny Mae would not last forever. I was making good money, but then 2014 hit and there was no more work. They needed a larger company to work in five or six different states. My company was not big enough to handle this kind of work.

I thought to myself- I need to change, to bring attention to my company and compete locally. My wife said, we have a great last name, why don't you use that? So that is how Ha Ha's Heating and Cooling started. I said let's see what kind of reaction people have. I get a lot of different reactions, but it all brings attention to my company and I get a lot of jobs because of the name. Two letter companies like what I had, there were too many. I had to make it as unique as possible and my last name did this. I also designed the logo. it is patented, along with the name. Ha Ha's started in 2019, beginning of the year is when we changed the name. Right now we have a total of 7 people working here, it used to be just me.
What do you hope for the future of the program at KCKCC?
It is very different now compared to what it was like when I went through the program at the old school, so many improvements! I wish they had it all when I went through the program, but I think it is great. It gives the students the opportunity to learn the different types of systems they will be dealing with. In the past we didn't know this until we were out in the field. I feel the students are lucky today. We didn't have the same type of equipment. KCKCC is doing great, to anyone who asks, I recommend the program and KCKCC. In this field, KCKCC TEC is where they should graduate. I still have my certificate and I am very proud of it and myself.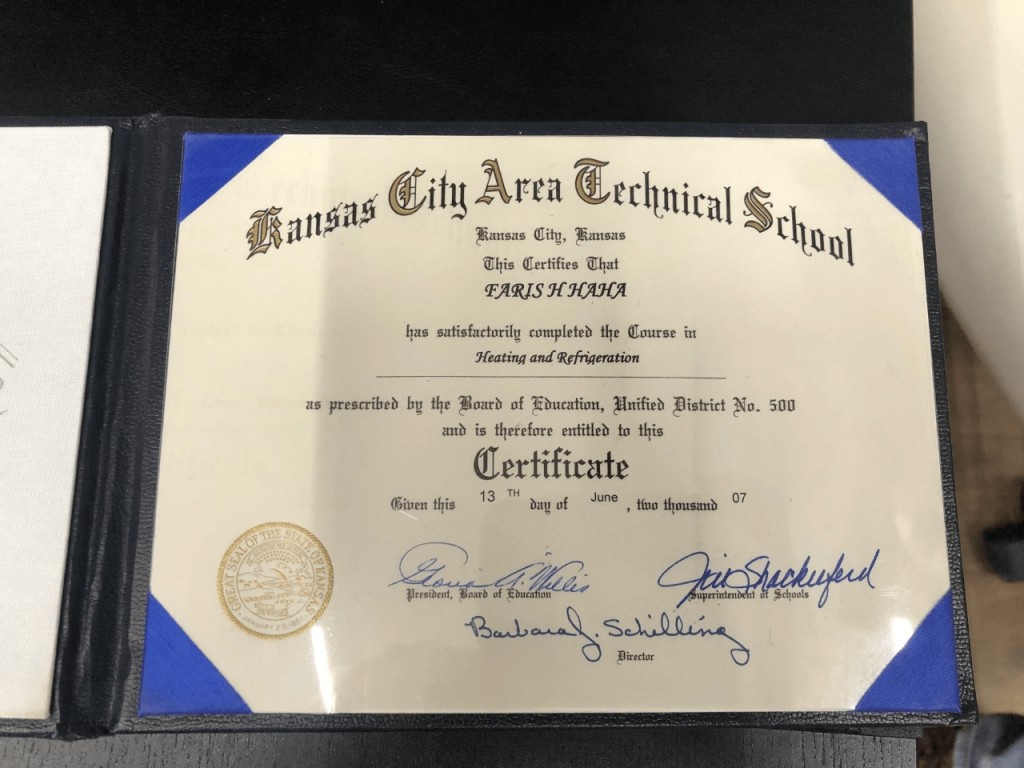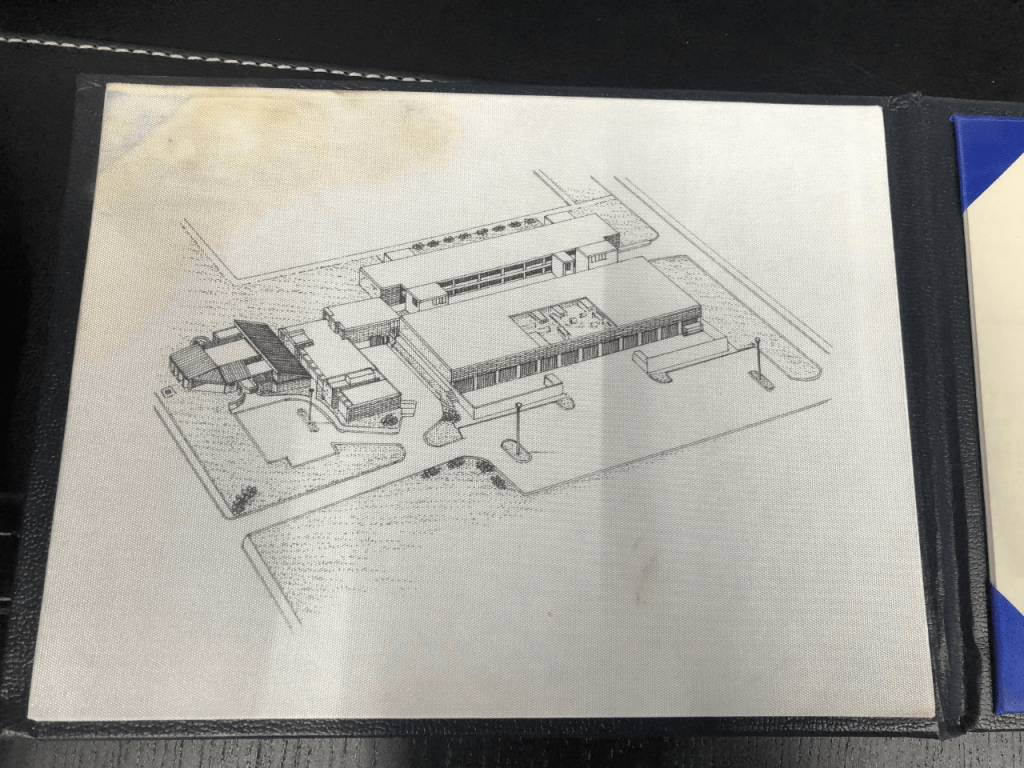 Do you have any advice for current students?
Traditional college isn't for everyone, but you should try to be better for yourself and the community around you. Be a good person. A lot of people will look to you for honesty. If you are an honest person, this is the key to success. This is how you get business, word of mouth, and good online reviews. You can go to Google and see how people love our honesty, how we explain things, and my positive attitude. We like to give people knowledge about the work we do.