Meet Joanne Haen, KCKCC Retired Faculty Member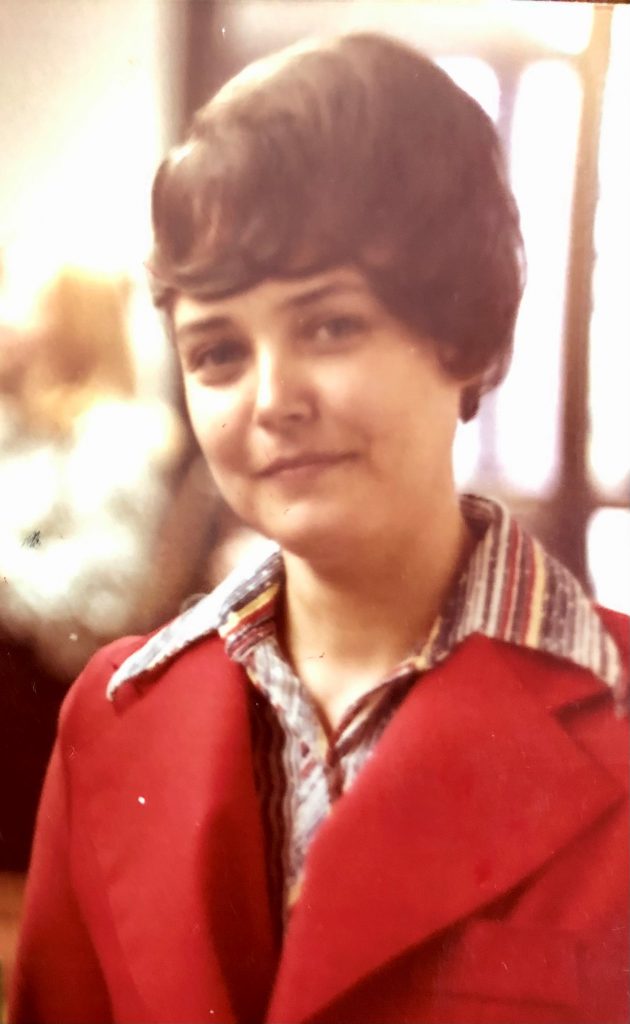 This month we sat down with retired faculty member, Joanne Haen. We reminisced on her time as a journalism instructor, faculty advisor for the student newspaper and yearbook, and her lifelong love of teaching. She is a true educator and will forever be a beloved Blue Devil!
What was your role at KCKCC and how long did you work there?
I was hired by the very first president at KCKCJC, Dr. Jack Flint, at the downtown campus when it was still Kansas City Kansas Community Junior College (KCKCJC). I started in 1968, worked full time for 32 years, and retired after the 2000 spring semester. I returned in the fall, joined the adjunct faculty, and taught some classes (laughing) — which lasted six years. Unfortunately, they wouldn't stop calling me! I wanted to retire so that I could do some traveling, so I finally said "no."

Before my time at KCKCC, I taught at Ft. Riley Jr. High in Ft. Riley, KS for two years. My husband convinced me to get my masters since he was working on his. He finished ahead of me and began searching for a job while I finished up my thesis. He actually interviewed for a job at KCKCJC first and was hired on the spot for the next fall semester. The college had an opening for a journalism teacher. He encouraged me to interview, and I was hired for the fall semester, as well.

For 24 years, I advised the college newspaper and the yearbook (for just two years) and carried a full load of classes. It was time-consuming and our work space was very limited. When we moved from the downtown campus to the current location, I really just wanted to teach but stayed around until 1991. When I told my dean I was quitting, he asked me what I was planning to do. I had no plan! "We can't have that," he said, "so I am going to let you go, but I am rehiring you to teach in the English department." I thought about the offer and decided to stay. This is what I had wanted all along.

Prior to my retirement, however, an administrator approached me to develop a Freshman Orientation course, so I assisted others in this challenge, interviewed instructors to fill the classes, and monitored the program once it got underway. Meanwhile, my dean envisioned me filling in on several committees because he believed I was "…just the right person for the job." These committees were in areas of interest to me, but more work was piled on to my already busy schedule.

An invitation to attend a College Board meeting provided even more opportunity to pile on additional work. When the Board president picked on me first to speak about any concerns I might have, I pulled out a college catalogue and pointed out dozens of editing errors. The next day I received a call from the college president's office and was asked to take charge of "fixing the problem." He did provide me with a committee, but that group dwindled to just two of us working on the final product.

I can't believe it has been nearly 22 years since I retired from full time work at the college. It does make me feel good to hear from former students. Sometimes it seems like I had them in class a bazillion years ago. I love knowing when they are out in the world doing good things. I mostly hear from those who have gone on to apply their journalism (on newspapers, at TV stations, in advertising, etc.} in some manner or another.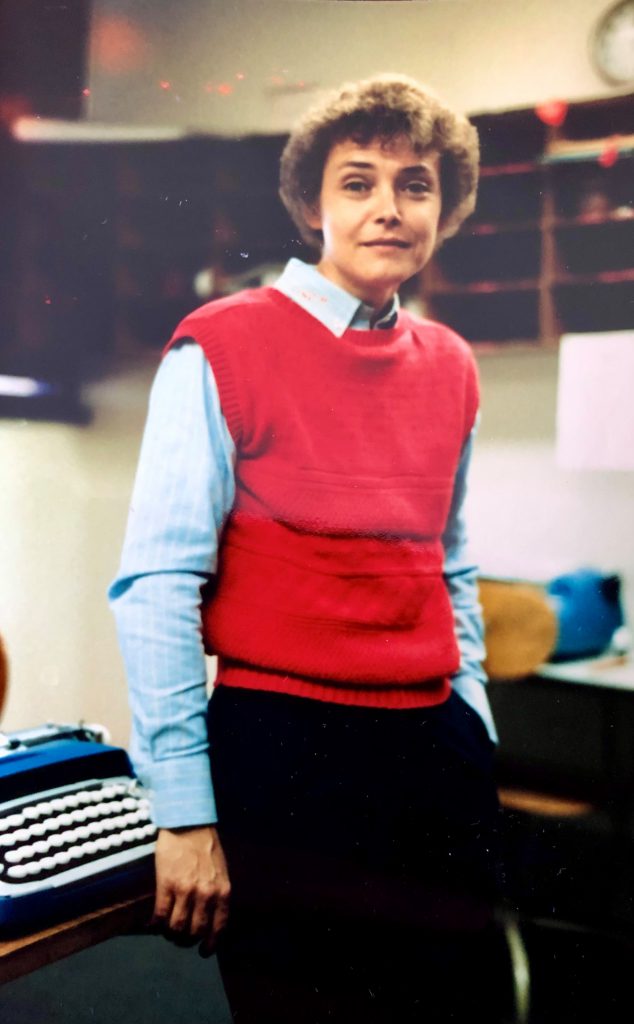 Where did you grow up?
I grew up in southeast Kansas, a little town called Iola. I stayed there for my first two years of college at Iola Junior College before moving to Emporia, KS to get my bachelors.
What did your husband teach at KCKCC?
(Joanne was married to the late Dr. Michael E. Haen, former KCKCJC/KCKCC Faculty Member, baseball coach, and Reserve KCK Police Officer).
He started teaching mostly history classes and then sociology. Eventually that area grew with a lot of majors requiring more social sciences. Also, a lot of students just liked the subject of sociology. He also was the assistant coach, then head coach of the college baseball team.
Please tell us more about the school newspaper when you were the advisor.
When I arrived at KCKCJC, the paper was called the Jayhawker. We changed that because I had earned my masters at K-State (she said with a smile.) Actually, the students suggested names and voted to name the paper the Blue Devils Advocate. Over the years, the "Blue Devil" part of the paper's name faded away. We had staff artists who made suggestions for change, and The Advocate just sort of grew out of that process. The paper has since disappeared.

I introduced an advertising class, taught the students to sell ads, and the paper really started to grow from a 4-pager to 8 pages, then 12 pages.

I tried to introduce a photography class. Staff members walked the halls and encouraged students to sign a petition. Over 100 signed their names as willing to take the course, even though the plan was to improve photos in the newspaper and give students experience processing film. Unfortunately, we weren't able to get it done before I left the advising position. A new adviser pursued the request, and a photography class was added to the course offerings.

When I first came onboard, I was told that the Board of Trustees did not want the paper to run "beer" ads. We did have a lot of students who were of drinking age, but most were not. At one of our newspaper board meetings, the paper's advertising manager said he could sell a full-page ad if we would simply mention the word "beer" in the ad. A discussion ensued, and the board voted to run the ad and "deal" with the consequences. The Monday following the previous Friday's distribution, I was in my office when my phone rang. I answered, "The Advocate." It was Henry Louis, who would later become Dean of the Social Sciences. "Oh, good," he said. "You still have a job here," chuckled, and hung up. I never did hear from a Board member.
Please tell us a memorable story about your childhood.
During the summer between first and second grade, I went to stay with my aunt and uncle in Rochester, New York. I was there the whole summer and at that time the two major political parties were holding some of the first candidate conventions on television. I was watching this on a black and white TV. My aunt came into the room and asked what I was doing. I told her there were men on TV giving speeches, and I was really interested in what they were saying. She asked, "Why are you watching this? It is so boring!" I, however, was fascinated. I watched both the Republican and Democratic conventions and thought Adlai Stevenson made the most positive comments. At the time, I did not know the definition of candidates, politics, convention, Republican, Democrat and many other words used in the speeches. That summer was the beginning of my interest in politics.
What do you think of all of the changes you have seen KCKCC go through over the years?
The college has come a long way. I like what the new president is doing (Dr. Greg Mosier) I am impressed. The college is finally completing some projects that have been in the planning stages for so long. The dorms will open to students this year. I am also so glad there is a childcare center on campus again. It is encouraging to see journalism classes are still being offered, but I but worry how students are applying what they are learning when there is no newspaper. Online was tried, but students prefer the hard copy.
Do you miss teaching?
I feel like I still teach all the time. My grandson is a good example of going from a bad report card to all A's and B's. I offered to work with him. He was still taking all classes all online because of Covid. "Your class starts in about five minutes," I said. "Don't you think you should turn your computer on and get ready?" He replied, "Well, people don't check in on time. They take about ten minutes or more to get everyone ready." I asked him to show me how he prepared to be a student. He said, "I turn on my computer, check in, and then sit here." So, I said, "I understand you have been making C's and D's, so turning on your computer is not preparing you for class." He didn't understand, so I told him, "You don't have any paper or a pen or pencil. How are you going to take notes?" He told me he didn't take notes. I said, "How do you prepare for a test and study?" His response was, "I either remember it or I don't." He located paper and pen before class started.

The teacher began by introducing the four different types of saws they would use when they had labs. I told him to write down the types of saws. He said, "What for?" "Just do it," I said. He asked, "But, why?" I told him it was probably going to be on the test. He said the teacher hadn't mentioned anything about a test. I said, "Trust me, you will have a test; write all this down." So, he did. The teacher displayed photos with names of the saws so students would recognize them when they got to their lab. One particular saw had a red button, waist high on the right side of the saw. He explained students needed to know how to quickly stop the saw from running if it became necessary. I told him, this button on this particular saw is red and on the right side. On another saw, the stop button was on the left side and was yellow. He needed to write this down, I said, "…because it is a good test question. He will test you about this because it is about your safety."

I got a lot of sighs and push back, but he wrote it all down. I told him there are a lot of ways to tell what a teacher is going to put on a test. The first and the easiest way is that a teacher will say, "This is going to be on the test! Also, when a teacher repeats himself, he plans to test you on that material." He wrote it all down but still grumbled a little bit. Not only did his grades improve when he started taking notes in most of his classes, he made the principal's honor roll during last spring's final grade period. He finally admitted that it "feels really good to get an A."
Do you have a favorite student success story from teaching at KCKCC?
I loved it when my student's won awards. At one awards dinner back in the late 80s. I was sitting near some students from a different college. When the presenter announced she would present the editorial page cartoon awards next, I heard someone from that group say, "Get ready, Joe" because they all thought someone from their college was going to win. KCKCC ended up winning first, second, and third place, something I didn't expect but knew we at least had a chance for one award.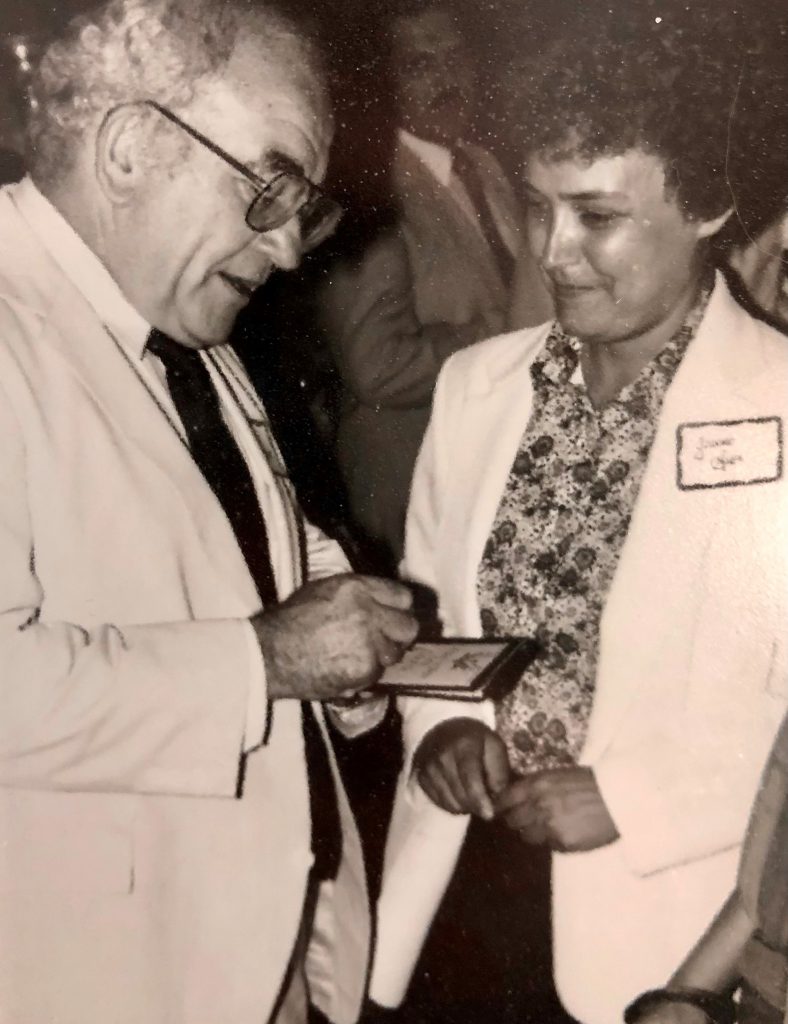 What was your favorite thing about teaching?
When any of my students were successful, I felt successful. One student wrote me a long letter, back in the 90s. Her goal was to work in the ad department at Macy's someday, and she was willing to start at the bottom and work her way up. After achieving her goal, she wrote to me. "You know," she said. "I really didn't like you that much." (I was shocked. I hadn't known this!) She went on to say she was especially perturbed at me when she came to me for help one day and I wouldn't give her the answer she wanted. As Arts and Entertainment editor, she was responsible for laying out her page and, under pressure of deadline, needed to solve her problem herself. She had spent just 10 minutes trying to do so. She said to me, "Mrs. Haen, I have a hole on my page." I told her to "fill it, that is your job." I urged her to recall what she learned in class when this problem arose. At the close of her letter, she said, "I am writing you to say thank you for saying things like that to me and not fixing the problem for me. I finally got on at Macy's, and I don't think I would have gotten this job without what you taught me."
What would you want your former students to know about your retirement days?
One of the first things I did was to start traveling. I had planned on doing it, but I just couldn't do it when I was teaching part-time because there was still so much to do on weekends and in the summer. Most of the students who want to talk to me have tracked me down! Many know I spend a lot of time with my grandchildren. Several former students asked me to be their friend on Facebook. Most of all, I want them to know that I am still teaching – just not in the classroom.
What advice would you give to current students?
Take notes! Read all assignments thoroughly. Know how to be a student. Some students are in class for the wrong reasons. Student loans and team sports are examples. I had a student once say, "I probably won't make it to class on days when I have (softball) games." I told her I watched the schedule and I thought she should be okay. She said "Well, even if a game is not during class, I have to get my mind right and set for softball, so I won't be in class." I said, "Well, you probably need to drop the class then because you are allowed just three days of absences (not including softball games) before you are dropped. If you aren't in class when it is possible for you to be here, you won't be able to participate, take tests, complete assignments on time, and learn." She didn't think that was fair to athletes.
Anything else you would like to share with our readers?
I have made so many friends working at KCKCC. I have friends outside of education, of course, but people I have met working here are just a very special group of people. I used to drive on campus thinking, "I am where I belong right now. I am here, and I am safe. I am where I need to be." All faculty, staff, even students felt like close friends.