Welcome Back Blue Devils,
Hope everyone had an enjoyable and safe Thanksgiving holiday, and is well-rested to return to do the important work we do on a daily basis!
Being the season of giving thanks, of course, most importantly I am thankful for the health and well-being of my family, friends and colleagues. I am also extremely thankful for the good each and every one of us provides, as Team KCKCC, to our students and community. We are fortunate to have the opportunity, privilege and responsibility to help those who enter through our doors, exit those very same doors, better educated and prepared to be successful in their future ventures, whether those ventures are to be more successful in their career or educational journey, or to be a better person and citizen in our rapidly growing global society.
I am fortunate to regularly hear about activities and projects faculty and staff are working on which exemplifies the great work we do! This is just one example… Over the Thanksgiving holiday, Mr. Victor Ammons, KCKCC Assistant Professor of Social and Behavioral Sciences, and faculty sponsor of the Catholic Students Club engaged a group of students in a project that brought food and comfort to many people during this holiday season.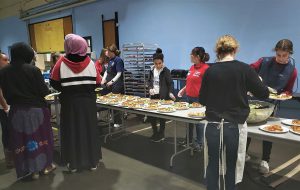 But this project also brought warmth to the students' hearts as they experienced the power of giving and service to others in their time of need. During a visit at Morning Glory of the Cathedral of the Immaculate Conception, nine students and Mr. Ammons helped prepare and serve food, restaurant style, to over 120 men, women and children. During their visit they also assisted in preparing sack lunches and dinners for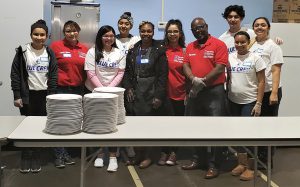 each person to take with them when they left. Thank you, Victor, for sharing your story and photos with me. And most importantly, thanks for all you do that helps our students and the community at the same time!
On Tuesday, November 19, KCKCC hosted our first President's Leadership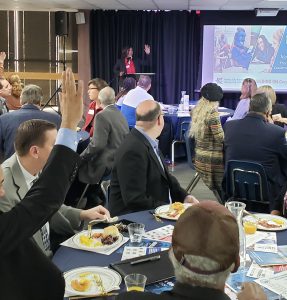 Circle Breakfast. More than 70 people attended this event, including current and future Friends of the College. It was a great opportunity to share stories of the impact KCKCC has on our community; educationally, economically and socially. During the event we were fortunate to have three students tell their stories of how KCKCC has impacted their lives and also had the opportunity to listen to the beautiful sounds of the KCKCC Men's Choir. Great interest was shown by our guests for the work that lies ahead of us.
it's an incredible feeling to watch and experience our Circle of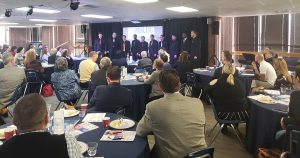 Friends continuing to grow. A special thanks to John Stafford for organizing his group to come perform at 8:00 a.m. in the morning, and to the entire Foundation Office for organizing this event!
As briefly mentioned in my last blog, KCKCC has been offered an incredible opportunity to tell our story, not only at the local and regional level, but at the national level! Now, several weeks ago, I was contacted by the assistant to the senior producer from a media firm who creates documentaries for public television. I later had a follow-up conversation with the senior producer. During these conversations they mentioned that they were preparing to shoot a short documentary focusing on "one" community college and "one" four-year university. The title of the piece will be "Leaders in the Future of Higher Education."
During the selection process, their research team searched social media, news releases and other media sources to come up with a list of approximately 16 institutions in each category. During my interview with the producer, I spoke about all the wonderful things we are doing at KCKCC to meet the needs of our community, especially the needs of those who have not necessarily had the same opportunity, or Equity in Access to higher education. While speaking of several projects, I highlighted the lack of education of individuals living in KCK's downtown urban core and KCKCC's plan to 1) go to where the people need our services the most, and 2) achieve success, that could not be achieved, without strategic and strong Public-Private Partnerships (P3's).
To make a long story short, KCKCC was selected as the one community college in the country to be highlighted in the documentary! The documentary series is entitled Behind the Scenes with Lawrence Fishburne. The documentary will run for 12 months on Public Television in all 50 states. Additionally, as being a part of the Behind the Scenes series, the company will also create a 5-7 minutes corporate video that KCKCC will own full copyrights and edit privileges. We will be able to use this piece in our upcoming capital campaign and other promotional materials. We will also have access to a 30-60 second commercial promoting the public television documentary. The commercial segments will air on major networks such as CNBC, CNN, TLC, the Discovery Channel and other national and regional network outlets.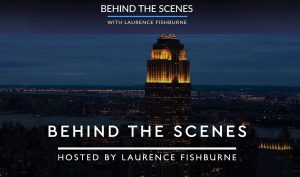 Filming will take place in approximately 70 to 80 days, with the piece being completed in approximately 100-120 days! Stay tuned, this is just the beginning of more great things to come from this venture…
Possible Art Donation: With our expanded outreach into the Greater KC Region, in this case with ARTSKC, the Regional Arts Council, over the Thanksgiving holiday I was contacted by the representative of a nationally-recognized artist. The representative contacted us to discuss our interest in receiving a donation of the artist's work. Having a background associated with Kansas City, this artist, who has 2-D and 3-D work all over the world, is interested in strategically gifting collections of work to areas that might not have access to museum quality work otherwise. During an afternoon, we walked various locations that may be appropriate for hanging the work. Conversation still to come with the KCKCC Ambient Learning Project committee  and with the Board of Trustees. Be sure to watch for future updates on this project. A recent donation to another organization from this artist totaled approximately $500,000!
Previous and Coming Events:  To help continue to tell the KCKCC Story and create new opportunities to help support you in the important work you do to promote student success, the following are a few people and groups which I met with in the last two weeks or will meet with this week.
Dr. Dick Myers – President Kansas State University
Dr. David Cook – Vice Chancellor University of Kansas
Mr. Bill Dunn Jr. – High Aspirations
Mr. Jeff Novorr – VP University of Kansas Health System
Multiple Development Companies – KCKCC Student Housing Project
Mayor David Alvey, Kansas City, Kansas Mayor
Mayor Jermaine Wilson – Leavenworth Mayor
Mayor Mike Smith – Lansing Mayor
Mr. Steve Jack – President Leavenworth County Development Corporation
Mr. Jim Lewis – President Security Bank
Mr. David Disney – Senior Vice President JE Dunn
County Commissioners – Area Legislators, KCKCC Legislative Breakfast
Presenting at Kansas Board of Regents Technical Education Authority
As you will often hear me say, the work we do changes lives! It changes the lives of our students and the people we serve. It changes the lives of their families. And, it changes the lives of their families still to come. For that, I am thankful!
Have a great December!
Dr. M.