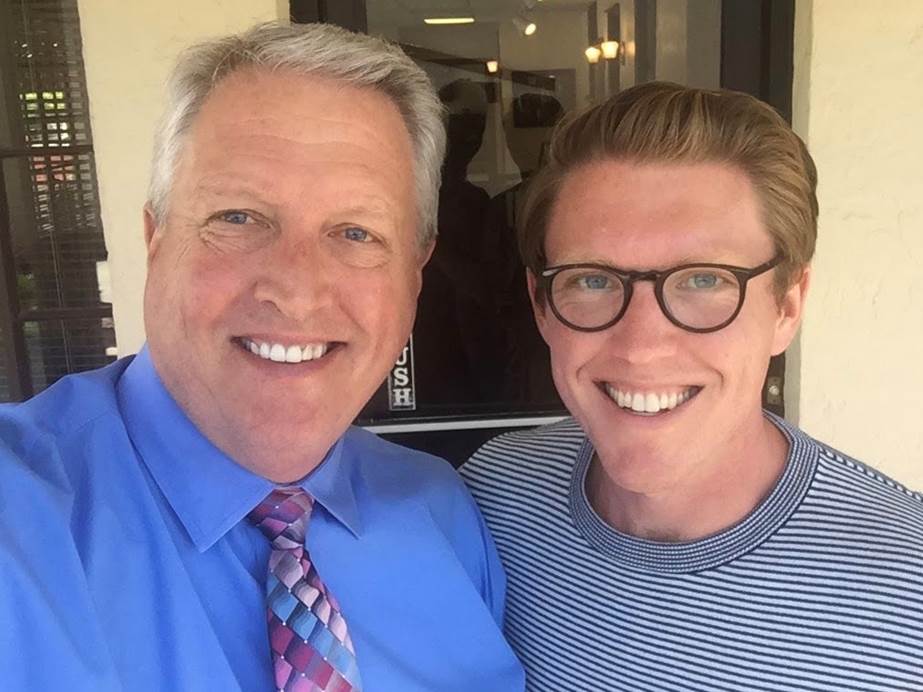 It's all Relative: Q&A with Father/Son Alumni Duo
This month we are visiting with Jeff Harrington, C'87, Mayor of Bonner Springs, KS and Funeral Director and Embalmer at Alden-Harrington Funeral Home, and his son, Jarred Harrington, C'12, CFSP, licensed Funeral Director/Embalmer and Best-Selling Author.
Tell us about your Family history at KCKCC and within your Industry?
We've had a long history with KCKCC. My father took some courses there prior to going to the University of Kansas, probably around 1957. I was in the next generation and graduated from KCKCC in December of 1987. This was after I had attended the University of Kansas. In high school, I also took courses at KCKCC to get some of my general education courses out of the way. My brother, Brad, graduated in 1994 from KCKCC and then Jarred graduated in December 2012. So, we have a lot of family history at KCKCC and with the Mortuary Science Program. It's so convenient for us to have something so close and offer such a high quality of education.

Jeff
How did your family become involved in the funeral home industry?
My great grandfather was Frank Alden. He established our current funeral business in Bonner Springs in 1908. It was known as Frank Alden Undertaker or Frank Alden & Company and he operated it out of the back of a livery stable. This was just a block and a half away from where the funeral home is now. Unfortunately, he passed away very young at the age of 48. His daughter, Irene Alden, married a man named Ward Harrington (my grandfather). Since he had married into the funeral business, he went to the Williams Institute of Embalming. He worked in the family business his entire career as my father did also. My father, John, graduated from the Commonwealth College of Mortuary Science in Texas. He is the current owner and President of Alden-Harrington Funeral Home. My mother received her funeral directors license in 1972 and also used to work at the funeral home. My brother Brad and I are both licensed funeral directors and embalmers. We work at the funeral home as well and serve as the General Manager and Managing Director of day-to-day operations. I came on after a short stint as an occupational therapist in Kansas City around 1987, so I have been working there for thirty-plus years. My son, Jarred, represents the fifth generation of our family working in the funeral industry. He was working here at the Alden-Harrington Funeral Home for several years and doing a great job and then he went back to school. Jarred graduated from KCKCC in 2012 from the Mortuary Science Program. We've had five generations of the Harrington family helping families through losses. It's quite an honor.

Jeff
The Alden-Harrington Funeral Home has a great website and detailed history of their family and business, for more information visit https://www.aldenharrington.com/our-history
Jarred, please tell us more about your educational journey and what you are up to now?
I went to KU first and got a degree in Economics. Then I came back, went to Mortuary school at KCKCC and graduated in 2012. I worked for another year at our funeral home in Bonner Springs and then left to get a master's degree in Thanatology, which is the study of death, dying, and bereavement. From there, I was hired on by the Federal Government as the funeral industry expert for the Labor Department. Since then, I stepped back and am writing full time. I'll probably make my way back to the funeral home in Bonner in the next five or six years. There's a lot of work to be done and there's thankfully a lot of people to help right now. That's allowed me to put out a book and kind of allowed me to explore some other things I wanted to check off my list. But, my education and work has all been related to the funeral industry.

Jared
We recently spoke to Rick Sprick, who you know and is a Professor of Mortuary Arts and Sciences, and he said you were an excellent student, Jarred! He remembered you well and is very proud of what you have accomplished and your best-selling book. Can you please tell us a little about this and the next one you are writing?
Rick is a great instructor, and I am grateful to him for all he taught me. My book is called Digital Remains. It's about how even after we pass, our digital remains become our story for future generations. In today's world, our digital presence is what is left behind to tell our story. My book helps people navigate this and help plan for it. I am switching back and forth right now from working on a non-fiction with topics centering on the funeral industry to historical fiction novels. Like working in the funeral industry I knew it would be easiest to switch back and forth for me and do one serious, grief or funeral related book and then have fun with a fiction novel. I have fiction novel that will be published in April of 2021 titled The L'Enfant Inquiry, the first novel in the Agents of Ezra Adventure Series. It is about a secret agency that's based underneath the nation's capital. It works through a bunch of clues that pertain to the city using actual historical figures and events. I use these real historical events to create a narrative of a doomsday plot have to stop before the clock runs out. It'll be a great beach read, just in time to grab it for summer. You can follow along with the writing process on Instagram @authorjhharrington. It's been a good experience and it's kind of interesting you know- me, dad, my uncle- everybody has picked a side passion project that they do in their spare time outside of the funeral home. For dad, it is definitely the city government and helping people in that way. For my uncle Brad, it is boat racing. He had won his class at the Shootout held at the Lake of the Ozarks for the last 15 years in a row, gaining him a spot in the Shootout Hall of Fame. I picked to go into writing and got a Best Seller on the first go, thank goodness! I'm thrilled that everybody picks a passion. That is how, in my opinion, we all allow ourselves to have a life on the side outside of the funeral home. Which in turn allows us to provide care to the families we help even more. Our passions refill our tanks in a way. It's definitely an outlet, and you can see every generation has picked a different category that doesn't overlap with anyone else's, it's our passion, which is very nice.

Jarred
You can purchase Jarred's book at https://www.amazon.com/dp/1641379375/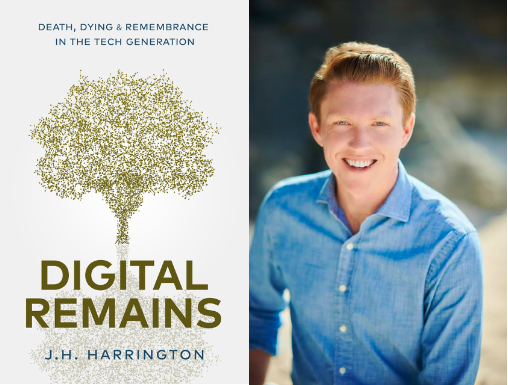 Jeff, tell us more about your involvement with the City of Bonner Springs and how this came about?
After I started working back here in Bonner, I was a low man on the totem pole. I was asked to be on the Cemetery Committee by the mayor at that time and then from there, my interest kind of grew. I was asked to be on the planning and zoning committee where I helped for twelve years. Then I got elected to City Council and was a City Councilman for twelve years. After that, I ran for mayor after Clausie Smith and I've been the mayor for the last seven years. So that's over 30 years of local community involvement and it has been a nice change of pace. It's one way that I'm able to help the community. Just like all of us do, you know, in our own different ways. It's been very rewarding and wonderful.

Jeff
Why did you both, and others in your family, choose KCKCC and the Mortuary Science Program?
It was most convenient. The next closest options were Chicago and Houston. Part of the funeral apprenticeship program is working at a funeral home and it makes it a lot easier to base yourself somewhere close to where you are working. It is a big part of the network- going to KCKCC. I know funeral directors through the whole Midwest region just because they were my classmates.

Jarred
Yes, exactly. I got a degree in Occupational Therapy and worked in Kansas City as an Occupational Therapist for about five or six years. I went back into Mortuary Science because there was an opportunity here at the funeral home at that time. I went to Mortuary Science classes at night and outside of work hours. My work schedule was flexible enough that I could accommodate all the classes I had to take. With my prerequisites out of the way, I was able to get through it pretty quickly, and it was such a convenient luxury to have it so close to home.

Jeff
How would say taking classes here and the Mortuary Science Program impacted your life?
Because it was so nearby and being a community college in the community we were living and working in, I developed relationships that I guarantee I carry through my entire life and career in Kansas City and Wyandotte County. I know dad still has all the connections that have come out of the County and from Kansas City. It definitely was a great network. Not only the classes and being one of the only mortuary schools within hundreds of miles, but it's definitely an asset for the community to have an emphasized program in Mortuary Science. And it is one of the top-ranking Mortuary Science Programs year after year. I mean, it was a no brainer when I was trying to decide where to go. The Mortuary Program at KCKCC is a great value that you would be hard-pressed to beat.

Jarred
I agree on all accounts. My father, at one time, was on the board for KCKCC back before I went to school there and it's a luxury to have that professional school so close. I'm sure the professional education that you can receive in nursing and all the different areas that KCKCC is committed to is received the same way. It is so personal to us to be able to step from Bonner Springs straight into Kansas City Kansas Community College.

Jeff
Did you have a favorite professor or course that you took when you attended KCKCC?
I had just come out of KU when I attended KCKCC, so I kind of challenged the instructors. But, I had two great instructors that come to mind. One was Dave Night/Nide/Nive?. After he left the college, he went on to be involved with the National Funeral Directors Association and their Continuing Education Program. Wiley Wright was there when I was there, and he can still tell you what a challenge I was.

Jeff
Yes, Rick Sprick and Wiley Wright were both great. I loved the restorative art class. Also, because different states have different qualifications, this program is heavy in biology and chemistry, which I liked the emphasis of honing those subjects into actual funeral arts. Then there was another class in the Psychology Department, which went through grief. It wasn't only a psychology course. More than half the people in class at the time were going through a grief of some sort. They were getting a benefit not only from the class, but from the grieving process that we were studying. That class played a factor into what I majored in during Graduate school.

Jarred
Do you have a favorite memory or story from when you were attending KCKCC?
I remember a story; I'd make my wife drive me up to the night classes so I could study on the way. That was way back in the day. Also, back when I went through the program, they had cadavers on campus sometimes. They don't do that anymore, but when I was going they did. I had quite a bit of experience through the funeral home by then and had lived in a funeral home for years when I was going to KU. I was as used to it as most of the other students were un-used to it. It was quite a difference in the varying levels of ability to come to grips with a real cadaver. I would think that would be nice to have those type of educational opportunities back in the program again. When I was going through the program and becoming a new funeral director, I thought the only people that were funeral directors were people who had grown up in the business. And then as I gained more professional experience, I've found out that some of the best funeral directors that I looked up to had walked into this career from completely out of the blue. So, it's not a function of the experience you have in it or the experiences that you've had. The longevity is tied to how you deal with the stress that accumulates overtime. Just like with any job, hospital worker or a line worker of any kind; stress is involved in their jobs. It's just a different way of having to deal with stress and having those coping mechanisms that will provide you the skills you need.

Jeff
Can you talk about how COVID-19 has impacted your business and industry and what changes you have seen?
Things have changed a little bit, but I think one of the things that people are more aware of for the funeral industry as a whole is how important it is for public health. A lot of the basis for the modern funeral industry was to protect the public health and I think people are starting to recognize how important some of the things are that we do behind the scenes. As far as the spreading of disease and contamination, we've been dealing with this for a long time behind the veil, behind the curtain. Now people are having to also increase their accommodations with hygiene and protective equipment that we've been doing for a long time. I think it'll improve that knowledge in society as whole. It's having a big effect on the funeral industry. We haven't had a big increase in numbers, but people that have either directly or indirectly been affected by the virus don't have a big desire to have large gathering of people. A lot of the services have been moving towards memorial services or graveside services only and that has had its effect on the funeral industry, too.

Jeff
Our funeral home in Bonner had the first COVID-19 death case in Kansas. That allowed our facility in Bonner Springs to provide quality care while being able to offer insights to other funeral homes that had cases farther into the pandemic. There are already so many health protocols that we're following at funeral homes. Many of the protocols and advice happens behind the scenes in a funeral home, much of which concerning COVID-19 we were then able to share echoing throughout the Midwest and nation. Really a lot of things that are at done in the local funeral homes in Wyandotte County are helping a lot of funeral homes nationwide. I know that first hand from my time in DC. That's a big part of it. The switch from in-person funerals to virtual funerals has been another big change. The virtual funeral is not an easy thing, because you have to start having hour long visitations before a service just to help people log on and get resources together. Now funeral directors have to be an IT person too, along with all the other jobs a funeral director has, to help everybody view a funeral now. It's a huge complication that wasn't there before Covid-19, especially in an industry that has an older demographic of employees.

Jarred
Can you talk more specifically about what services look like today and how you are adapting?
It's a real fluid organic situation, because each family's needs are different. In the beginning we had people delaying their memorial service until the pandemic was over. Now that it's been so long, families want to go ahead and memorialize the deceased in some way. So, they chose to have an abbreviated or a lesser memorial than what they feel they would've had at the time the person passed. We offer Zoom funerals or Facebook live or all these different options. Some people are easily accommodating to that. Other people, it's foreign to them and they don't have a need to have those kind of things. They have 10 to 15 people with immediate family there. They might be 90 years old and just want a simple service. It all depends on what the needs of the family are and what their memorialization desires are- it's different in every single situation. You just have to be flexible and act practically to accommodate their needs. It's just like all the other stressors that we've had with the funeral industry- we have to be good listeners to be able to find out what their needs are and let them know what's available. Oftentimes people who are using the funeral industry have no idea what their options are.

Jeff
It's easy to determine what may be right for you, but that option may not be right for the next person. And that's OK. It's creating that atmosphere of comfort that if someone wants something new and different or doesn't want what they thought they would, that's totally OK. That's something that's really come to life, if not opened up the funeral industry a little bit more to the general public. With all the new funeral options that are coming online today, there really is going to be more public knowledge, I hope, in the area. That's one of the main goals of my new book, Digital Remains, opening up the dialogue and educate people about funerals in an easy to access way. Now you can have not only burial and cremation, but you can have a water burial (alkaline hydrolysis, which is a water cremation). Or you can be composted in Washington, or you can have an outdoor funeral pyre in Colorado. There are new options every year it seems. It's all possible, but you have to do a lot of pre planning to get exactly what you want and not feel rushed. It is a hard subject for a lot of people to talk about, but the way you learn it definitely helps a lot. Being a professor in the field, there's a lot of responsibility there, and those guys really do a great job. I think Rick and Wiley, they don't get enough credit for what they do.

Jarred
Have either of you ever thought about teaching at some point in your careers?
I was faculty at the University of DC working in the psychology of grief for a year. So maybe in the future, but I'm sure dad thought about it too since he's so proximal to the campus.

Jarred
Thought about it in a fleeting way, I would be too hard of a teacher- would have homework every night. One of the strengths Wiley has is he's kept his hand in the business for a long time, even as a teacher. He's had professional experience along the way. I think that it is important to have instructors not just have an educational background, but professional experience as well. And that's been the case with all the instructors that I've had at KCKCC.

Jeff
Have you hired students or had apprentices from the Mortuary Science Program at KCKCC?
Sure, if they have the last name Harrington.

Jeff
Harrington has a 100% success rate! In all seriousness- yes. It is required in the program to do a year apprenticeship and there's been a number of apprentices come through the funeral home from KCKCC. It's a close network, so they will end up also working at one of the other local family firms. They will go work within a lot of them whenever help is needed, so they really do get multisite experience going to school at KCKCC. It's not something you get everywhere, which is nice.

Jarred
What are your hopes for the future of KCKCC and the mortuary science program?
Rick Sprick will certainly be able to carry the program into the future and I'm sure it will continue at the same high level as it has in the past. I can't stress enough how valuable it is to have that connection with professionalism/professional experience for the instructors and students out in the community. I'm sure those will be big components to success in the future.

Jeff
Almost all of the graduates from the Mortuary Program are going to either be managing or owning small to medium sized businesses, so the expansion of the business side of things through accounting programs and other business classes are important. Or, continuing and coming back after you graduated for a small series of business classes that are relevant in Mortuary programming would be a great benefit. Same with psychology and grief because all these students are on the spot psychologists. In most of the settings they are working with they're giving grief counseling or a listening ear as they are leaving the grocery store or getting ice cream with their kids. If someone needs to catch their ear, they're going to stop and listen. It maybe 30 minutes later before the kids get ice cream, but helping people in our community doesn't have set work hours. So, some additional psychology and grief training would be a good thing for the program maybe in the future. It definitely offers all of that now, but I'm sure they'll expand it with the growing needs.

Jarred